Now Shipping Spring 2023
We've implemented years of feedback into our new designs to provide Linemen the confidence to make safe field decisions. Use the NEW Ampstik®+ to safely take accurate current measurements when performing high voltage live-line load checks for balancing, switching, or breaking load. Ready to ship in 2023.
Check out the New Ampstik®+ OR view our new lineup for 2023.
Start with the right tools
Stay safe while making quick decisions in the field
with SensorLink's live-line, high voltage instruments.
Qualstik holds nine sets of power quality readings up to 2000A, 500kV, Wide Jaw 3.86" sensor opening
Ohmstik holds nine sets of readings up to 2500 µΩ, 1400A, 500KV, Standard 2.5" sensor opening
True RMS Ampstik, holds four readings, 5000A, 500kV, Wide Jaw 4" sensor opening
New Tools.
Same SensorLink.
Check out our New Products designs and contact your rep for availability.
Recent Articles
SensorNote 501: Operation notes for safety and productivity
The Arbiter Model 928A Power System Multi-meter is designed for use on low voltages, and additionally will measure higher voltages by using the portable SensorLink Amp and Volt Litewire probes.
SensorNote 901: Operation notes for safety and productivity
What is a True RMS Measurement?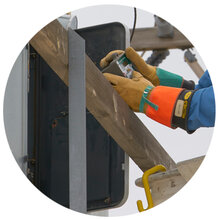 SensorNote 303: Operation notes for safety and productivity
Removing or installing a voltage regulator requires line workers to closely follow procedures to make certain the regulator will not short circuit and create a dangerous situation. Using a precision voltmeter to view the live-line voltage, while verifying the neutral and step indicators, eliminates uncertainty of the measurements.
Let us help answer your questions!
Already know which tool you need?