Survey power quality problems
Qualstik
Live-line power quality measurements

Measures reactive or apparent power factor

Measures direction of current flow

Measures load up to 2000 Amps

Store up to nine unique sets of readings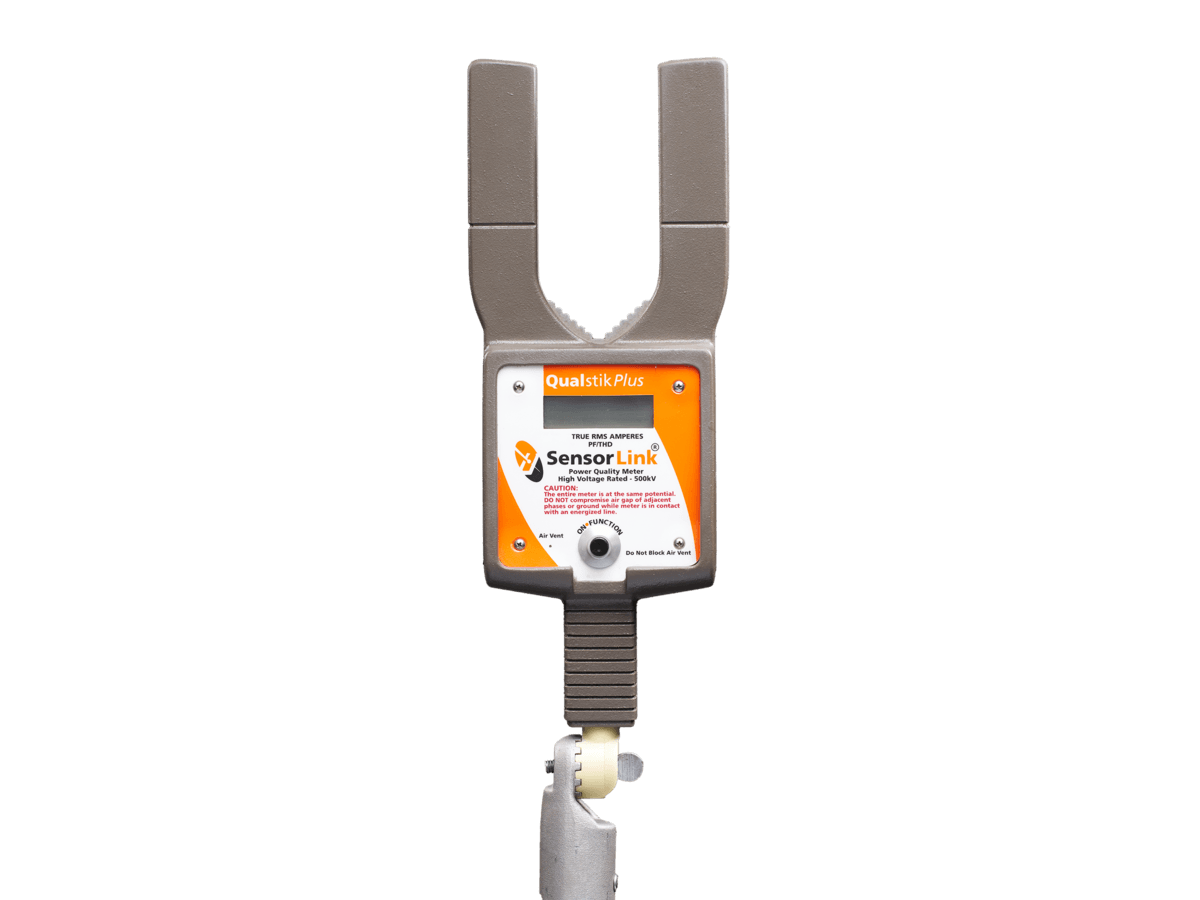 The Qualstik Power Quality Meter has been developed specifically for measurement of four important items of power quality in the electric utility industry. These are Current, True Power Factor, Total Harmonic Distortion and the Direction of Current Flow.
The Qualstik is an excellent survey instrument for locating problem areas for comprehensive testing. The SensorLink patented amp sensor does not use magnetic materials and has no moving parts. The opening of the sensor is electronically closed and external currents are electronically rejected. The True Power Factor is calculated by measuring the electric field in comparison with the current reported from the amp sensor.
The Qualstik is not position sensitive, just slip it over a conductor and touch the electrode in the bottom of the fork to the line. The meter will store and calculate the three measurements within 10 seconds. The current reading is shown on one line of the display while the power factor and THD readings share the other line. The direction of current flow indication shows below the other readings on the display.
The housing of the Qualstiks are made of urethane and built to operate safely even in severe utility environments. They are resistant to shock, water repellent, and unsusceptible to flame. They also operate in a wide temperature environment.
The Qualstik is an excellent survey tool to assist determining placement of power factor correction devices as well as identifying other power quality problems. 
The QualstikPlus is designed to store up to eight sets of readings, which the user is then able to delete on the instrument.
Qualstik Models
Qualstik holds nine sets of power quality readings up to 2000A, 500kV, 2.5" sensor opening
Qualstik holds nine sets of power quality readings up to 2000A, 500kV, Wide Jaw 3.86" sensor opening